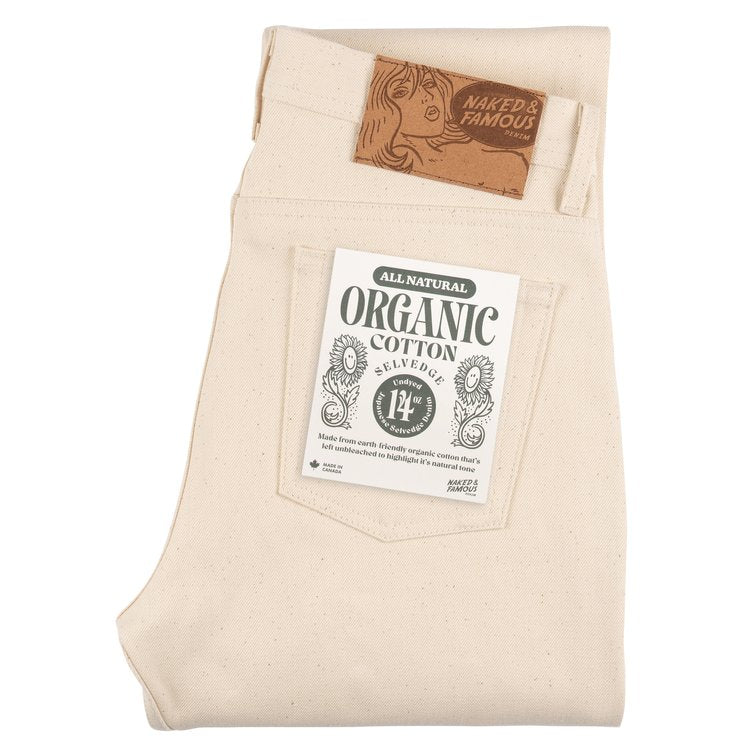 Weird Guy All Natural Organic Cotton Selvedge
14oz 100% Cotton 
The Weird Guy fit is a slim fit that tapers from the knee down. Medium rise.
The All Natural Organic Cotton Selvedge is a 14oz undyed Japanese selvedge denim made using organic cotton. The cotton is unbleached highlighting it's natural color. Small brown fragments of the cottonseed are spotted throughout the fabric. Woven on vintage shuttle looms in Okayama, Japan the denim has a classic raw rigid texture. Cut, sewn, built in Canada with tonal stitching, green line selvedge ID, recycled beige leather patch, and silver metallic buttons and rivets.
*RAW DENIM CARE!
- Do NOT wash for at least the first 6 months
- Size down (they will stretch at least 1 size)
- Try not to machine wash (wash by hand in a shower or tub), but if you must - do it on the lowest setting, inside out. With mild soap.
- Do NOT machine dry. Hang dry.
More products from Naked & Famous