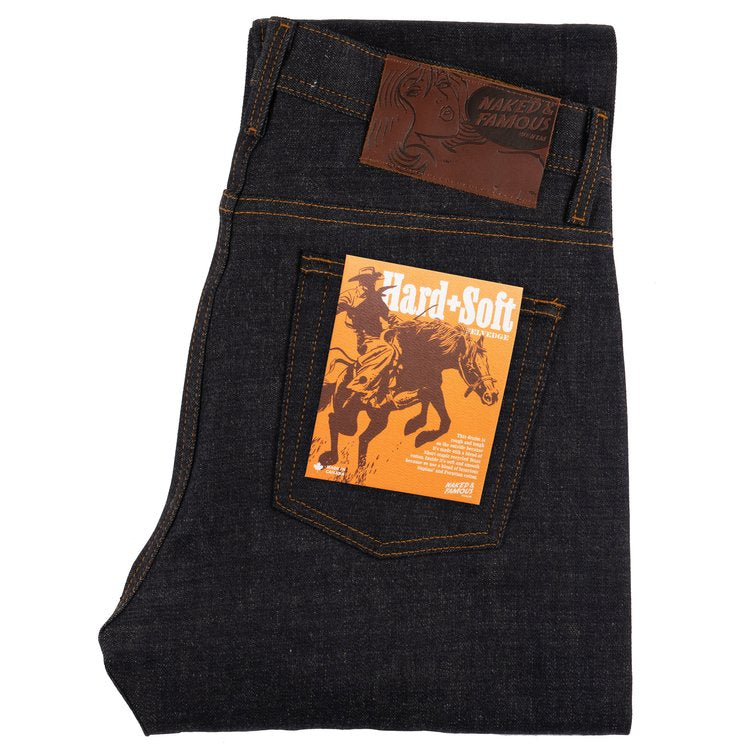 Weird Guy Hard + Soft Selvedge
12oz 100% cotton
The Weird Guy fit is a slim fit that tapers from the knee down. Medium rise. **Also available in Super Guy**
The Hard + Soft Selvedge is a 12oz Japanese Selvedge Denim made using a combination of short staple and long staple cotton fibers. The exterior warp is made using a blend of Texas and Recycled short staple cotton to give the fabric it's rough and rugged exterior. On the inside the weft is made using a blend long staple American Supima and Peruvian cotton, giving the denim it's smooth interior, plus the added strength of long cotton fibers. The mix gives this denim rough exterior that is extra durable and comfortable to wear. The denim was woven on vintage shuttle looms in Okayama, Japan and is rigid with a deep indigo tone. Cut, sewn, built in Canada with contrast stitching, classic redline selvedge ID, raging bull leather patch, and silver metallic buttons and rivets.
Made in Canada.
*RAW DENIM CARE!
- Do NOT wash for at least the first 6 months
- Size down (they will stretch at least 1 size)
- Try not to machine wash (wash by hand in a shower or tub), but if you must - do it on the lowest setting, inside out. With mild soap.
- Do NOT machine dry. Hang dry.
More products from Naked & Famous